GRAFTON BAPTIST CHURCH - HARTFIELD, VA
Welcome
Grafton Baptist Church was established in 1867 by a group of people who were members of the Harmony Grove Baptist Church.
Grafton is known as The Friendly Church by the Side of the Road Where Everybody is Somebody and GOD is ALL.
Information
CHURCH SERVICES OFFERED:
Sunday School 10:00 a.m.

Sunday Service 11:00 a.m.

Wednesday - After school 3:30-6 p.m.

Wednesday - Bible Study 7:00-8:00 p.m.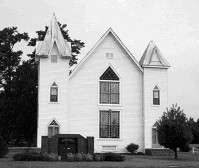 Grafton Baptist Church
P.O. Box 8, Hartfield, VA 23071
(804) 776-9527